Meeting Local Needs with 21st Century Solutions
Public health is a commitment to the community. Tested frameworks for prevention, sustainability and innovation are applied to serve the greater good. Diverse arrays of leaders, students and stakeholders come together to pool their expertise, share their resources and improve outcomes. Collaboration is key.
The Herbert Wertheim School of Public Health and Human Longevity Science at UC San Diego serves the community through its work with diverse populations to improve determinants of health, develop collaborative community-based programs, empower future leaders and foster innovation.
"Every human has a right to health, longevity and the highest possible quality of life," said Cheryl A.M. Anderson, Ph.D., M.P.H., founding dean of the Herbert Wertheim School of Public Health and Human Longevity Science and Hood Family Endowed Dean's Chair in Public Health. "At the heart of our work is a spirit of service and consideration for our communities."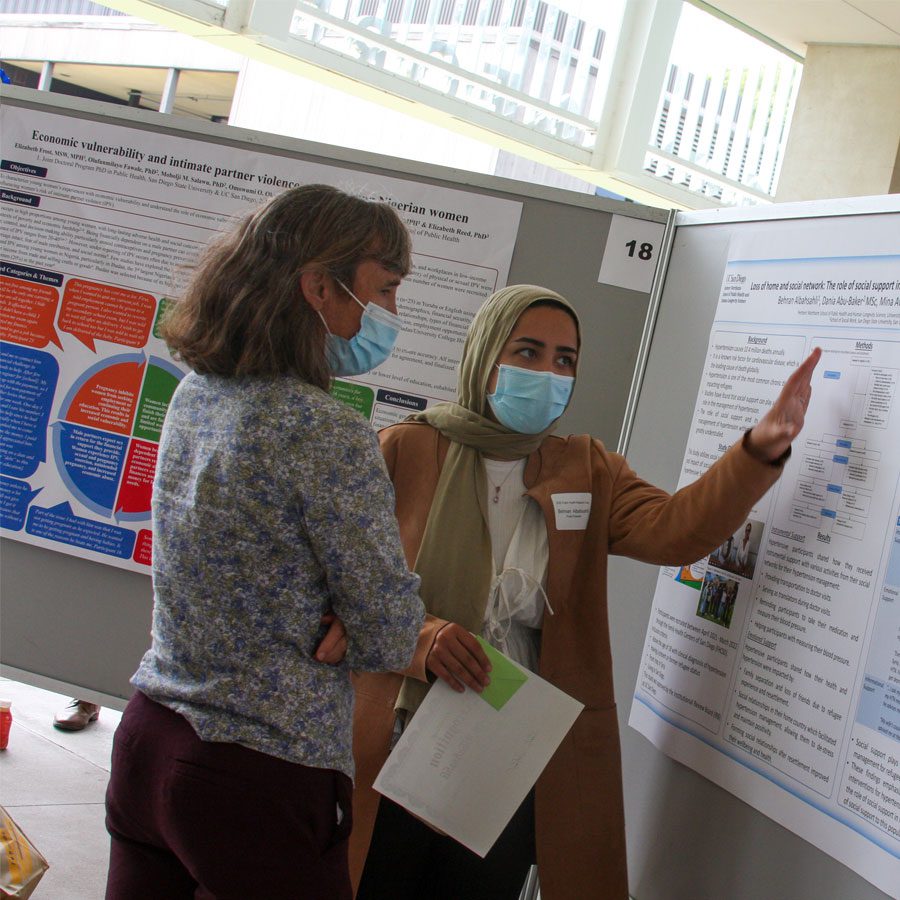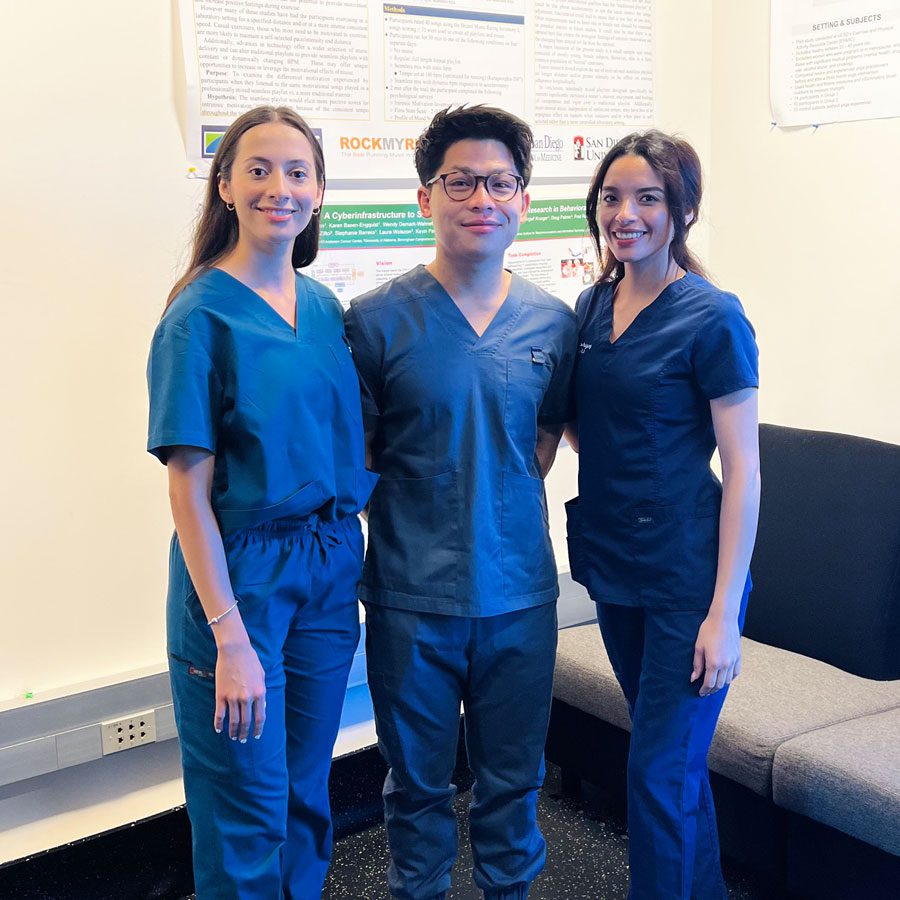 "Our work brings academia, governments, non-governmental agencies and others to the table to design effective public policies and achieve common goals," Hill said. "I've seen no clearer illustration of the power of what we can accomplish when we have the courage to set aside our differences long enough to work together for common benefit."
Crossing the Great Divides
Linda Hill, M.D., M.P.H., Distinguished Professor and interim assistant dean for community border health partnerships at the Herbert Wertheim School of Public Health, began supporting health screenings for asylum seekers in 2018. In concert with government agencies, Hill and her team used an innovative congregate sheltering model to create more effective processes to better serve those in need. Since then, her work has expanded dramatically, always in a spirit of collaboration across borders and organizations.
Hill leads an eclectic team encompassing a broad range of expertise, building projects and relationships that bridge cultural divides. This includes working with academic partners at two Mexican campuses, Universidad Autónoma de Baja California and Universidad Xochicalco, on COVID-19 research and mitigation — an issue that has proved particularly stubborn and prevalent in asylum-seeker communities as the worldwide pandemic has persisted — along with student exchange programs.
"I have been excited to watch this diverse and tenacious team of future public health leaders rise to the challenges of COVID-19 and create new opportunities for innovation and collaboration," Hill said. "These projects are giving rise to future leaders in public health who will lead with an eye toward providing culturally competent care to displaced populations while prioritizing diversity and equity. It's no surprise that our work has expanded when there is so much to be done."
At the invitation of Fonna Forman, Ph.D., J.D., a professor of political science in the School of Social Sciences and founding director of the Center on Global Justice at UC San Diego, Hill's team is now developing a program in collaboration with Universidad Autónoma de Baja California to provide medical services to the "UC San Diego-Alacran Community Station" in Tijuana, which is part of the Community Stations initiative. The scope of the services is being determined to best prioritize community needs. It will likely create exciting new field-training opportunities for students and medical trainees.
Hill's team also works with Mexican Consul General Carlos Gonzales Gutierrez on cross-border initiatives and leads a UC San Diego Health Sciences Committee on COVID-19 prevention and mitigation together with public health and medical experts in San Diego County as well as partners based in Baja.
Projects such as these provide a preview of where public health initiatives may be headed.
"An equitable policy response means centering the needs of people who have been hit the hardest."
– Rebecca Fielding-Miller, Ph.D., M.S.P.H., assistant professor at the Herbert Wertheim School of Public Health
Recognizing the Unique Challenges of Refugee Communities
As the COVID-19 pandemic continues, the wide-ranging impact is still being studied, but one thing is apparent, its effects on San Diego communities have not been evenly distributed.
Refugee communities in San Diego have suffered substantially more negative effects associated with COVID-19 than their neighbors, including loss of work and income, and negative repercussions on mental health. Those who have lived in the area longer than six years have been the hardest hit, with 150% higher adverse community effects compared to more newly arrived refugees.
These findings were revealed and explored in a study published in June 2022 by UC San Diego and the Partnership for the Advancement of New Americans in the journal Social Science and Medicine – Population Health.
"As we move forward into the next chapter of the COVID-19 pandemic, it is of utmost importance for us to remember that communities have not been affected the same across the country," said senior author Rebecca Fielding-Miller, Ph.D., M.S.P.H., assistant professor at the Herbert Wertheim School of Public Health and a faculty member at the Center on Gender Equity and Health at UC San Diego School of Medicine. "An equitable policy response means centering the needs of people who have been hit the hardest."
As to why refugees who have been in the country for longer durations have tended to struggle more with COVID-related challenges, this may be because the resources allocated to new refugees tend to run dry after six years, leaving many to fend for themselves without adequate support.
The work of researchers like Fielding-Miller may help public health organizations devote more attention to communities that need it the most, focusing more on establishing long-term stability and success rather than short-term aid. Recognizing the current gaps is a crucial first step, especially since the tribulations of COVID-19 are far from over.
The study used data from the cross-sectional Partnership for the Advancement of New Americans biennial community survey collected between September and November 2020 in a sample of refugee community members living in San Diego.
Getting Food to Underserved Populations
In response to new challenges, strong organizations adapt, reconfiguring their work and their missions to meet the rapidly shifting needs of the interconnected communities they serve. Such is the case for the San Diego County Childhood Obesity Initiative (SDCOI).
"In response to the unique and unprecedented challenges of COVID-19, we quickly recalibrated. In partnership with the San Diego Hunger Coalition, a SDCOI member, we were able to hold space for community residents and grassroots coalitions to convene, coordinate and share lessons learned as they engaged their communities in accessing a new form of food assistance, Pandemic EBT (P-EBT)," said Eric Hekler, Ph.D., professor and interim associate dean for community partnerships at the Herbert Wertheim School of Public Health.
"In our role as the backbone organization for the San Diego County Childhood Obesity Initiative, we worked with our partners, particularly Anahid Brakke and the San Diego Hunger Coalition who co-designed and funded the efforts, to recruit and support resident leader teams in bridging gaps in communication and knowledge, to ensure all eligible families received and could use their pandemic EBT benefits at the beginning of the pandemic," said Hekler.
This work seeded spinoff activities.
The success of this joint effort to engage community members and ethnic community-based organizations in increasing awareness of and access to P-EBT, San Diego Hunger Coalition developed its new "Hunger Free Navigator" training curriculum, which equips a diverse and dedicated range of residents and nonprofit staff to connect people more effectively with food assistance. The P-EBT project also helped catalyze a continuing shift in the structure of the SDCOI.
Specifically, it resulted in the SDCOI actively engaging in consciously and thoughtfully shifting its approach to prioritization and decision-making to one that centers community voice and prioritizes health and racial equity as the underlying drivers of childhood obesity.
Hekler is taking an active role in creating this much-needed change, prioritizing immersive and empowering community engagement, with a long-term goal of consciously shifting power dynamics to better center community voice and priorities in the advocacy, policy, and other activities of the SDCOI.
The Herbert Wertheim School of Public Health sponsored and funded a community-centered series of workshops meant to re-imagine the leadership model for the SDCOI, which is called the community council and, as of July 19, 2022, held its first election among the community to elect and form the first permanent community council.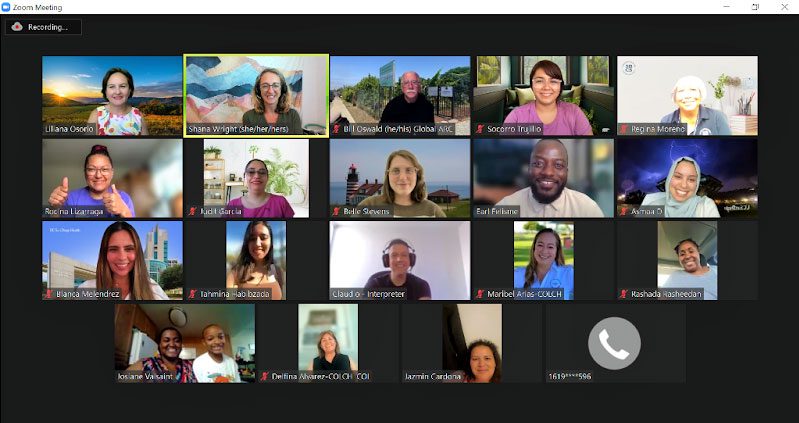 The Herbert Wertheim School Public Health also provided funding to community residents to take part in a four-session set of workshops — translated into four languages — involving a diverse array of community groups with members crafting and designing their definition and understanding of a new community council for the SDCOI. The work was done in partnership with San Diego County Health and Human Services Agency and YMCA. It was facilitated by Bill Oswold, associate executive director for research and education at the Global Action Research Center.
This sort of shift requires rigorous honesty requiring current gaps in representation, which can help drive efforts to earn trust in underserved communities. As a testament to its effectiveness, Vice Chair Nora Vargas, San Diego County Board of Supervisors, has showcased the organization's efforts as a model for advancing health equity and has signed on as a supervisor champion.
Tracking an Ongoing Pandemic
In the early days of the COVID-19 pandemic, it was hard to know which way was up. Fear and confusion were everywhere, and it was clear that spreading accurate, useful information would be essential. Although the pandemic is ongoing, great strides in transmission mitigation have been achieved and valuable lessons in the dissemination of sound public health guidance have been demonstrated through the work of those who prioritize public safety and education, such as the UC San Diego's Public Health COVID-19 Response Team.
The team has been in service since July 2020, providing essential public health services, while articulating useful, reliable, and up-to-date SARS-CoV-2 health and safety information to populations affiliated with UC San Diego. Reducing communicable disease transmission through the services of contact tracing, case investigation, outbreak management and other high-risk event investigative models is their primary objective.
"We have developed many strong partnerships with internal and external stakeholders, which have compounded the effectiveness of our work in the community," said Robert Wood, M.P.H., program director and infectious disease intervention specialist for the UC San Diego Public Health COVID-19 Response Team. "Our collective impact on the COVID positive case-rate within our community is truly a testament to the resounding benefit of collaborative public health, and the importance of on-going communication with constituent populations."
A key element of the team's work has been case investigation, which interrupts the transmission of communicable diseases passed from one person to another. It involves interviewing individuals who are infected with COVID-19 and their close contacts.
On and off campus, the UC San Diego Public Health COVID-19 Response Team managed UC San Diego student, employee and affiliated close contacts of campus-affiliated cases. The team also served those who self-reported as being exposed to a positive case of COVID-19. They oversaw isolation, quarantine and symptom-monitoring activities, including student release from isolation and quarantine.
Approximately 5,500 student and employee COVID-19 cases were received since July 2021, helping to prevent an untold number of new cases.
The team also managed campus-affiliated outbreaks, defined as three or more COVID-19-positive cases that have confirmed exposure to each other within a 21-day period for non- congregate settings and lowered to one or more cases when in a congregate setting. During the 2021-22 academic year, the team managed a total of 38 on-campus affiliated COVID-19 outbreaks and received over 8,000 COVID-19 positive cases, including UC San Diego students, employees, minors and affiliates.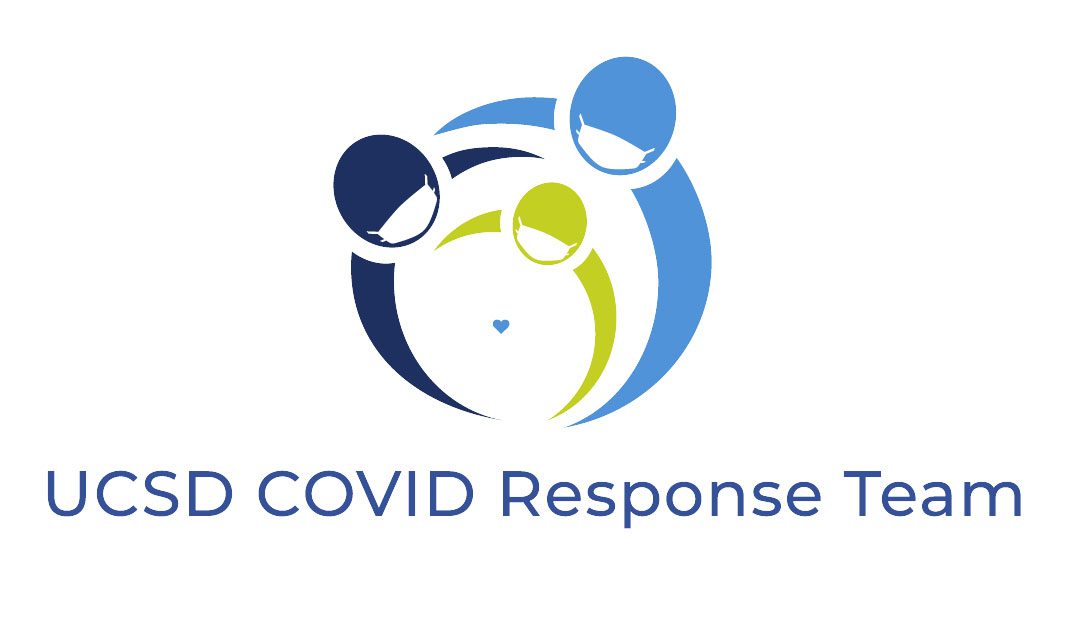 With the ever-changing landscape of COVID-19, the UC San Diego Public Health COVID-19 Response Team has employed best practices in accordance with national, state and internal public health guidance to mitigate multiple surges of different COVID-19 variants, each with its own unique challenges. Adjusting staffing and protocols to adapt to ever-shifting circumstances was commonplace.
In March 2022, the team experienced one such change with the successful completion and closure of their contract with San Diego County Health and Human Services Agency to provide contact tracing to 18 to 29-year-old members of the greater San Diego community exposed to a positive case of COVID-19.
The UC San Diego Public Health COVID-19 Response Team continues to expand its network of stakeholders and partnerships as they work in concert to sustain and protect the health and safety of the UC San Diego community.
At-Home Screening to Reduce Cancer Disparities
With improvements in prevention, early detection and treatment of colorectal cancer, the rate of people diagnosed with this malignancy has dropped thanks in part to lifestyle changes and increased cancer screening. However, this is not true across all populations.
"Even before the COVID-19 pandemic, the populations that are left behind and most impacted are certain racial and ethnic groups, recent immigrants, the uninsured and individuals from low social economic status groups," said María Elena Martínez, Ph.D., professor at the Herbert Wertheim School of Public Health and Sam M. Walton Endowed Chair for Cancer Research at UC San Diego Moores Cancer Center. "In cancer prevention, colorectal cancer screening, including follow up of abnormal stool tests, is one area that has huge potential for impact."
Forty two percent of Latino men and 47.5% of Latino women are up to date with screening compared with 60% of white men and women, according to the Centers for Disease Control and Prevent. Latinos who develop colorectal cancer are often diagnosed at a much later stage, requiring more aggressive treatment and resulting in higher numbers of deaths.
According to the Colorectal Cancer Alliance, death from this disease is 35% higher for Blacks despite similar screening to Whites.
To counteract these health inequities, Martínez teamed up with Samir Gupta, M.D., gastroenterologist at UC San Diego Health and Veterans Affairs San Diego Healthcare System, and Sheila Castañeda, Ph.D., adjunct associate professor at the San Diego State University School of Public Health, to successfully compete for a National Cancer Institute-funded project called Accelerating Colorectal Cancer Screening and Follow-up through Implementation Science (ACCSIS).
"We know colon cancer screening saves lives, but it is underutilized among Latinos, Blacks, Native Americans and Asians," said Gupta, who is also professor in the UC San Diego School of Medicine. "We want to leverage what we previously learned from our research to increase colorectal cancer screening using a non-invasive approach."
Mailing outreach, including the use of fecal immunochemical test (FIT) at home, has been successful at increasing colorectal cancer screening at large health systems, said Gupta. To test if the same approach could be applied at smaller medical facilities, the team launched a clinical trial with federally qualified health centers in San Diego County to enroll 5,000 people yearly to increase participation among populations with traditionally low screening rates.
Along with Gupta, Jesse Nodora, Dr.P.H., and Samantha Hurst, Ph.D., both faculty at the Herbert Wertheim School of Public Health, received funds from the American Cancer Society (ACS) to identify multi-level interventions for colorectal cancer screening in federally qualified health centers. Along with the ACCSIS study, the ACS-funded research further characterizes the needed best practices to increase colorectal cancer screening for the region's poorest residents.
Federally qualified health centers, including Vista Community Clinic and Neighborhood Healthcare, mail invitations to use at-home colorectal cancer screenings to their patients, who are often uninsured or underinsured and with limited access to healthcare.
The clinical trial was temporarily paused when shelter-at-home orders were issued due to the COVID-19 pandemic causing already low rates of screening to drop drastically. Thankfully, the community health centers were able to resume the trial in 2021.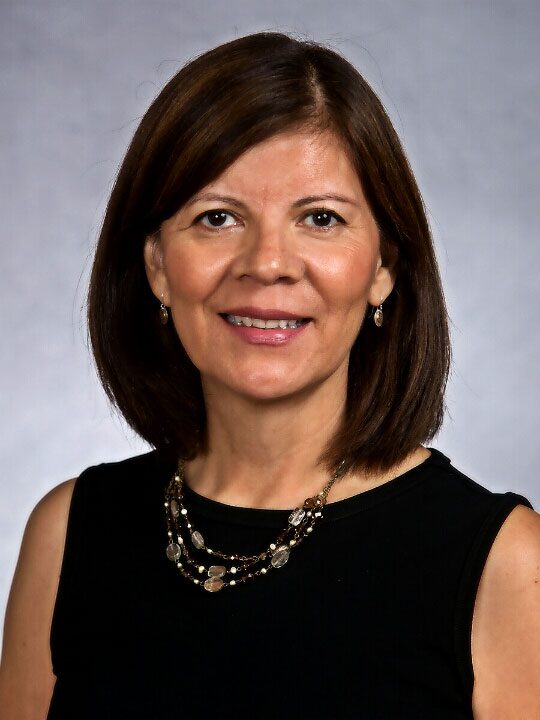 "The communities most impacted by this disease seek care at these centers," said Martínez. "We invested in these community centers to increase colorectal cancer screening and to deliver the care they need if the tests detect abnormalities."