Educating Outside the Box
Cultivating the Next Generation of Public Health Leaders
As an emergency management coordinator at UC San Diego Health, Ana Arevalo helps the hospital system prepare for the unexpected — such as pandemics, power outages and mass causality events — by conducting trainings and exercises that reveal gaps and strengths in day-to-day operations.
After considering several majors, Arevalo found public health allowed her to blend her academic interests into a career she loves.
"During my undergraduate career, I changed my major a couple of times because whatever major I was enrolled in at the time didn't touch on everything that I wanted to learn. It felt limiting," said Arevalo, who graduated with a Bachelor of Science in Public Health (BSPH) from UC San Diego in 2020.
"I love data and I love science. But I also love social sciences and writing and business and everything in between. I'm so glad I found public health as a major because my education incorporated all of that."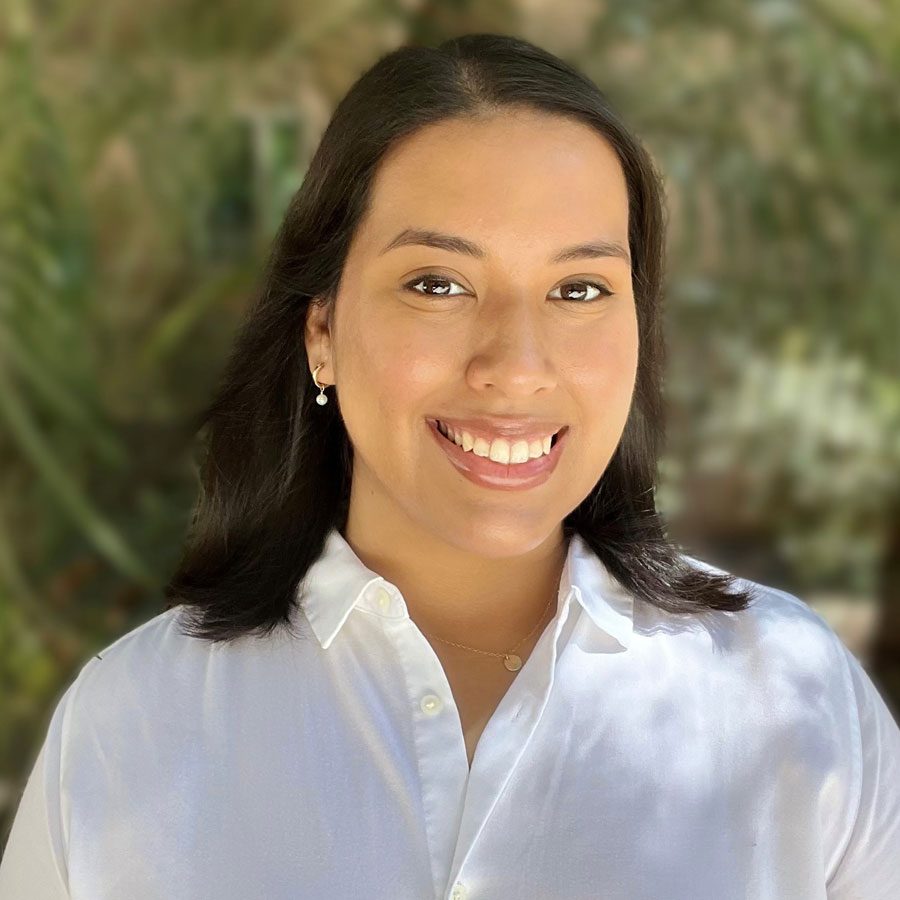 "I'm so glad I found public health as a major because my education incorporated all of that."
– Ana Arevalo, Emergency Management Coordinator at UC San Diego Health
With six education programs, the Herbert Wertheim School of Public Health and Human Longevity Science at UC San Diego is cultivating the next generation of diverse public health professionals and leaders through innovative and transformational education programs including bachelor's, master's and doctoral degrees as well as a preventive medicine residency.
"The school of public health is at its best when our training and research efforts, as well as our community academic partnerships, are working together in a way that acknowledges the importance of diversity to true excellence and innovation," said Cheryl A.M. Anderson, Ph.D., founding dean of the Herbert Wertheim School of Public Health and the inaugural Hood Family Endowed Dean's Chair in Public Health.
"This school is not only built for those of us who are walking through the halls in the present moment, but we are keenly aware of our need to be relevant decades from now. That means we need to recruit diverse students and scientists to train here and to work here."
Among students who indicated their status when enrolling, 40% identified as being first-generation college students and more than 70% as being members of an under-represented racial or ethnic group, said Kimberly Brouwer, Ph.D., interim associate dean for education and student affairs.
"The current high visibility of public health, and the societal challenges we face regarding equity and access to care is attracting highly motivated applicants to public health programs from many underserved populations and communities," said Michael Pratt, M.D., M.P.H., interim assistant dean for graduate education and director of the Master of Public Health program.
"We also believe that as our diverse and talented graduates move into public health jobs and advanced training programs, they will be highly visible indicators that the Herbert Wertheim School of Public Health and Human Longevity Science at UC San Diego embraces diversity."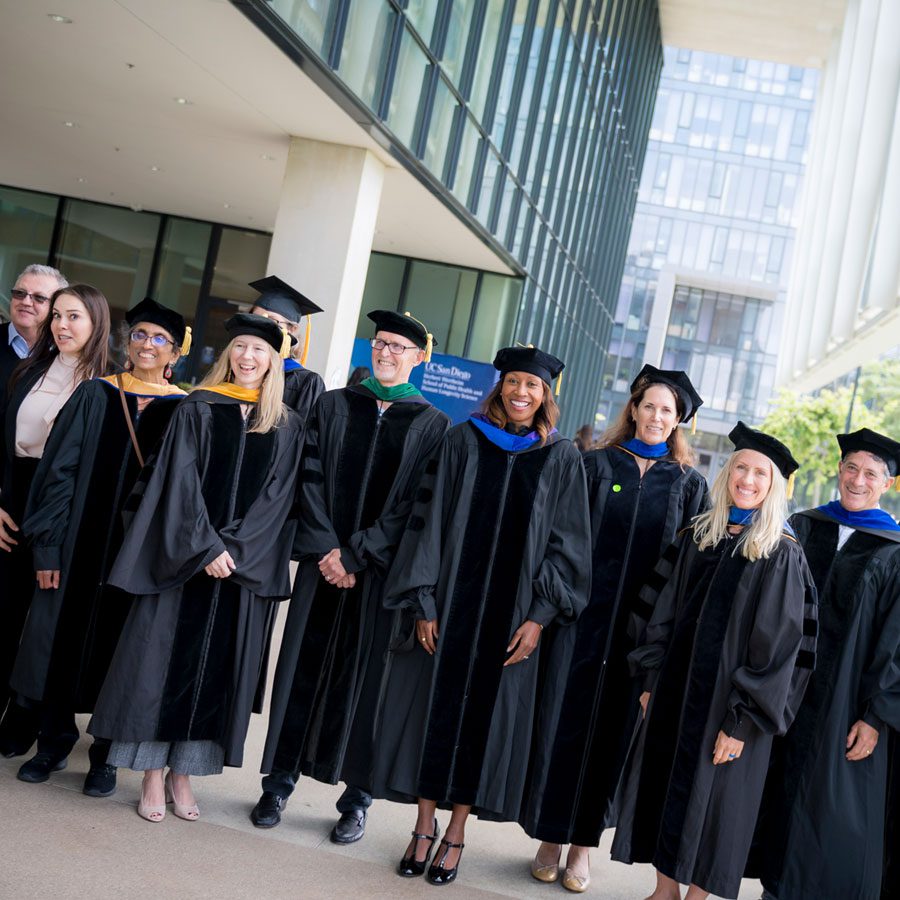 Bachelor of Science in Public Health
Since the Herbert Wertheim School of Public Health launched in the 2020-2021 academic year, the Bachelor of Science in Public Health program added six new concentrations: Biostatistics, Climate & Environmental Sciences, Community Health Sciences, Epidemiology, Health Policy and Management Sciences, and Medicine Sciences. Enrollment increased dramatically in the last two years from 400 to more than 600 students.
Arevalo liked the diversity of a public health education which included epidemiology, biostatistics, health policy, environmental and occupational health, health behavior and more.
"Every day was different and every day I learned something new. I think that's one of the things I love most about public health and now in my career," said Arevalo. "It really helped me build confidence and interpersonal skills as well as persistence and critical thinking because you're constantly re-evaluating your project and re-evaluating your approach to research and everything that you're doing."
"The ongoing COVID-19 pandemic is a clear example of the importance of having well-designed public health policies and the need to train the next generation of public health leaders. It has inspired a new generation of students who want to address health disparities and be prepared for the next pandemic," said Argentina Servin, M.D., M.P.H. Servin took over as director of the Bachelor of Science in Public Health Program in 2022 from Dennis Trinidad, Ph.D., interim associate dean for faculty affairs and mentoring, who ran the program for seven years.
"We are beyond thrilled to welcome 250 new students for the '22-'23 academic year that will have the opportunity to engage with leading public health researchers and practitioners while learning about public health approaches to understanding, preventing, and addressing health inequities and complex public health problems," said Servin.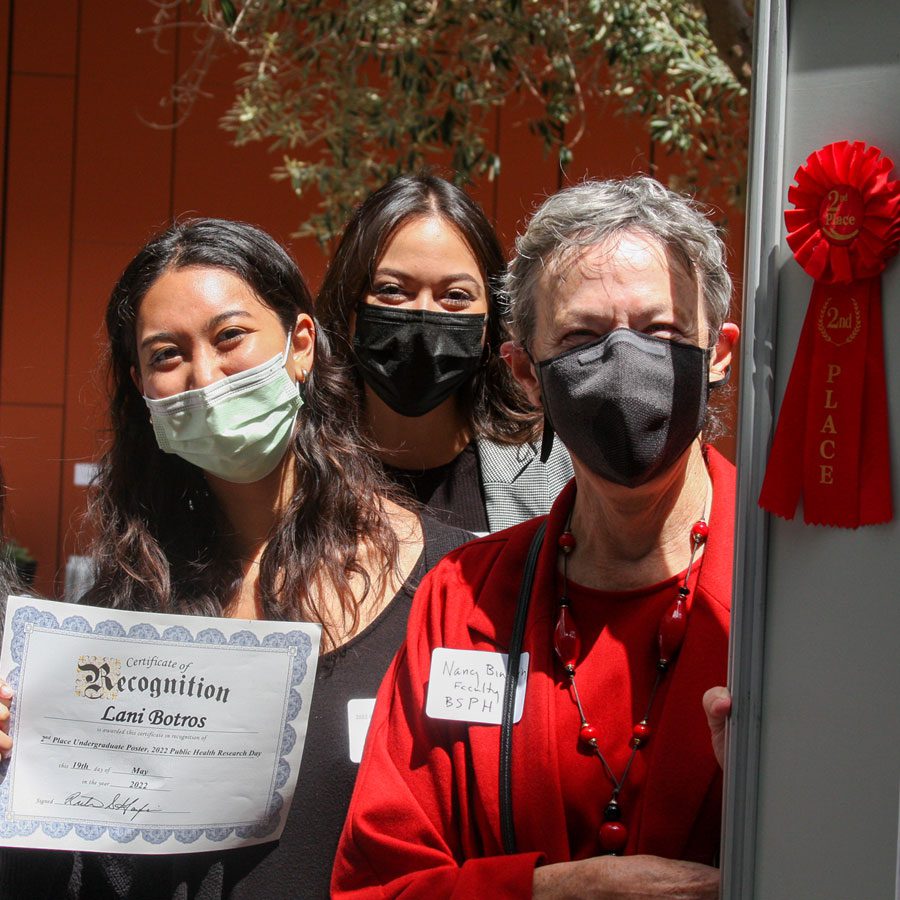 Mia Barry, who graduated from the Herbert Wertheim School of Public Health's Master of Public Health (MPH) program in spring 2022, is also thankful to go into the field of public health.
The course "Design and Public Health" and her mentor, Deepa Sannidhi, MD, inspired her to become an epidemiologist.
"I was the research assistant for a pilot program Dr. Sannidhi created to help with chronic management of obesity in UC San Diego Health patients using group medical visits," said Barry. "Dr. Sannidhi is an example of someone who sees work as giving back to her community and to others. She inspires me and believes in me, and I aspire to live my professional working life in the same way."
The MPH program began in 2018 with 21 students, when public health was a department within UC San Diego School of Medicine, and has achieved steady growth and had a record 52 students in the 2021 cohort.
In the 2021-2022 academic year, the Herbert Wertheim School of Public Health added Health Policy as its sixth MPH concentration adding to a portfolio that includes Technology and Precision Health, Epidemiology, Health Behavior, Public Mental Health, and General Public Health.
At least three of these concentrations will be highly relevant to current health challenges but nontraditional foci for MPH programs.
"As a new school of public health, we have committed to doing things differently than traditional schools and to take on new issues with greater priority than traditional schools give them," said Pratt.
"We expect that the Mental Health concentration and the Technology and Precision Health one, as well future concentrations, will differentiate our MPH from most others, attract excellent students, and meet public health needs locally and nationally."
While some prospective students may be interested in these nontraditional concentrations, the General Public Health program was designed in response to requests from the School of Medicine for a flexible, one-year MPH option that could meet the needs of medical students, residents, fellows and other health professionals.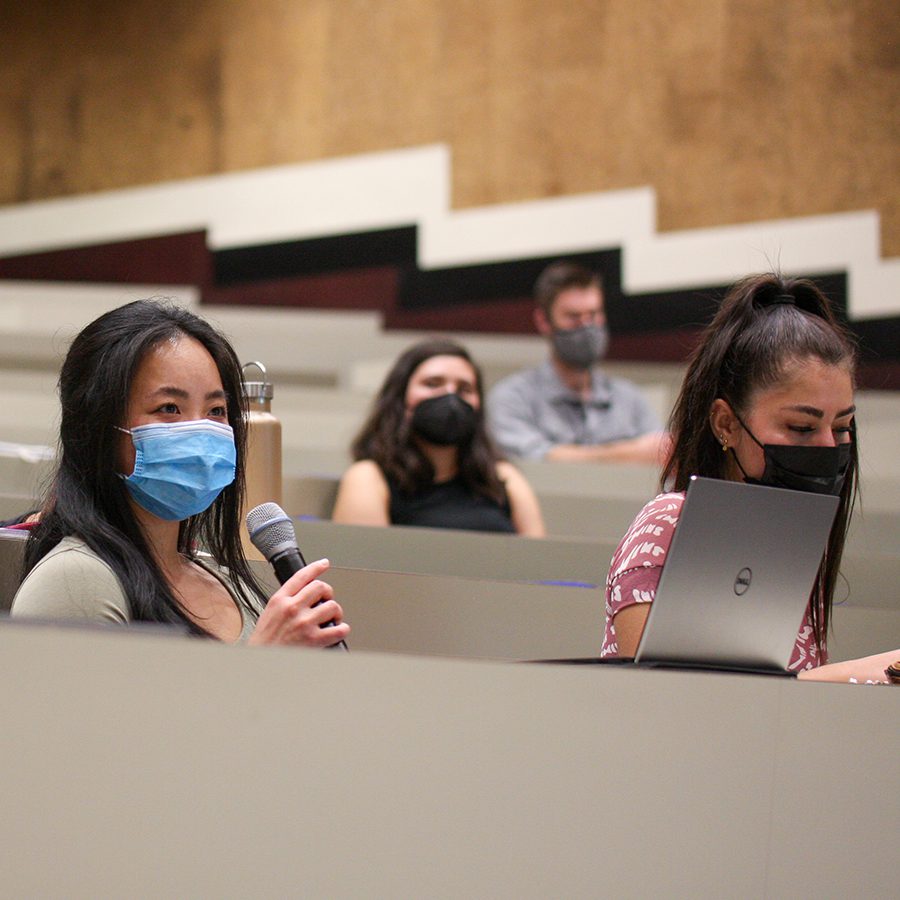 Joint Doctoral Program in Public Health
Another program breaking boundaries is the San Diego State University/UC San Diego Joint Doctoral Program in Public Health (JDP). The three tracks in Epidemiology, Health Behavior and Global Health remain strong, with a record number of applicants.
There are more graduates seeking and getting positions in non-academic settings. New programs have emerged on the same timeline as the school of public health to include specialization in human-centered design and new engagement in a National Institutes of Health (NIH) T32 predoctoral training grant program in data science for behavioral health with computer science and engineering. The Herbert Wertheim School of Public Health has three NIH T32 fellowship opportunities available to predoctoral students and postdoctoral researchers.
"Students are re-imagining the traditional academic path toward a tenure-track university position with an expanded vision for being a public health professional. The school may be facilitating this by bringing in more disciplines and launching efforts to connect students to skills that may facilitate a position in the healthcare industry," said David Strong, Ph.D., director of the Joint Doctoral Program in Public Health.
While most JDP graduates are still obtaining academic positions, and a smaller group is working in federal or state agencies, graduates with industry jobs have doubled. Between 1999 and 2020, 20% of graduates went into non-academic careers. Between 2021 and 2022, 42% were working in industry.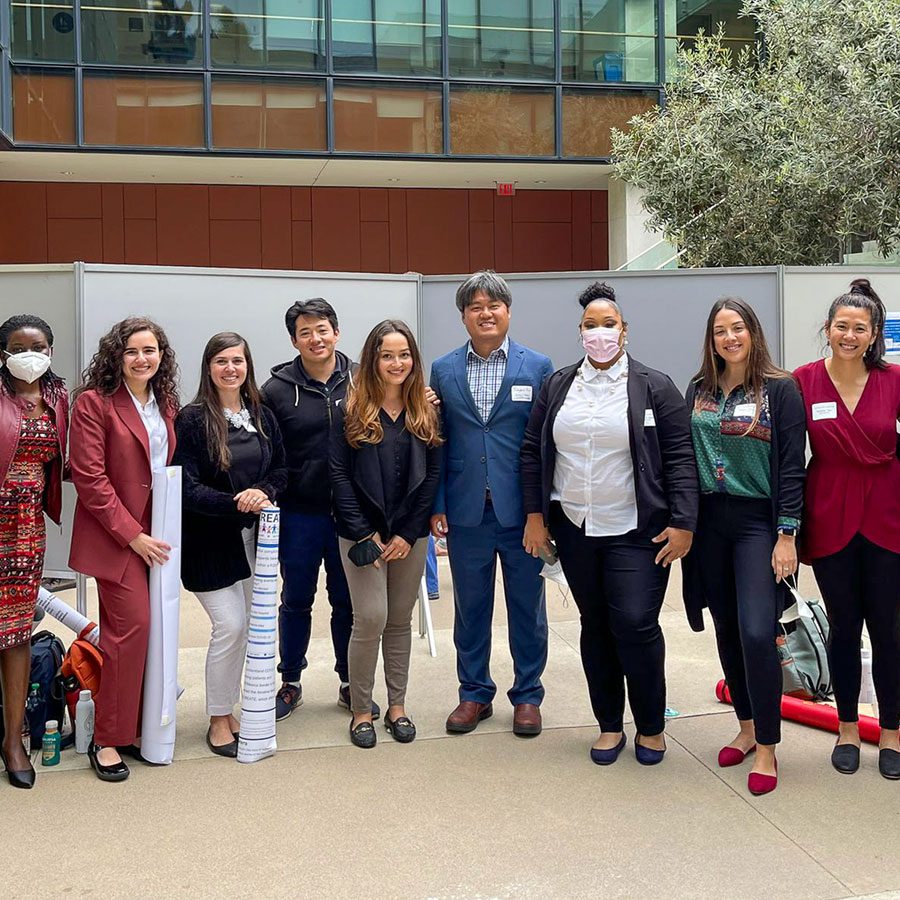 Graduate Programs in Biostatistics
In 2022, the biostatistics program was nationally ranked by U.S. News & World Report for the first time, debuting at the median ranking, ahead of many more established programs.
Among the newer degrees students can select at the Herbert Wertheim School of Public Health, is the Master of Science in Biostatistics which fully launched in academic year '20-'21. The program graduated its first full cohort — 10 students — in '21-'22. Of the graduates, three were accepted to doctoral programs and one enrolled in medical school.
"Biostatistics is one of the primary skills needed for public health and biomedical research. Our program provides students with training in biostatistical methods, data analysis, computational skills, and the ability to apply this knowledge to research that focuses on health-related problems," said Lin Liu, Ph.D., director of the Master of Science in Biostatistics program.
"Upon graduation, our students will be able to work with various experts to support the cutting-edge medical research and decisions that healthcare professionals make."
The Doctor of Philosophy (Ph.D.) program admitted its first cohort in 2016 and graduated its first three students in 2021. In the '21-'22 academic year, 24 students were enrolled in the Ph.D. program. Six students graduated in spring 2022.
Yuqi Qiu, Ph.D., who earned his doctoral degree in 2021, was awarded a UC San Diego 2022 Chancellor's Dissertation Medal for his dissertation titled "Doubly Robust Imputation for Longitudinal Data with Monotone Dropouts: Applications in Alzheimer's Randomized Trials."
"Since 2017, I have been collaborating with many talented individuals in the Alzheimer's Disease Cooperative Study (ADCS) under the guidance of Professor Karen Messer. We noticed a dropout-related bias in Alzheimer's disease trials and this motivated us to develop statistical methods to solve the problem," said Qiu.
"It was a huge surprise and great honor for me to be selected as a recipient of the 2022 Chancellor's Dissertation Medal, a special recognition of the work we did during my five years of study in the Division of Biostatistics."
Qiu is now an assistant professor at East China Normal University. Like Qiu, many biostatistics graduates are obtaining top-level jobs in academia and industry including at Vanderbilt University, Pfizer Pharmaceuticals and Amazon. One recent graduate has already established his own startup.
"The success of our graduates and our recent national ranking confirm what our students and faculty believe, UC San Diego is among the best places in the world to get a doctorate degree in biostatistics," said Florin Vaida, Ph.D., director of the Doctor of Philosophy in Biostatistics program.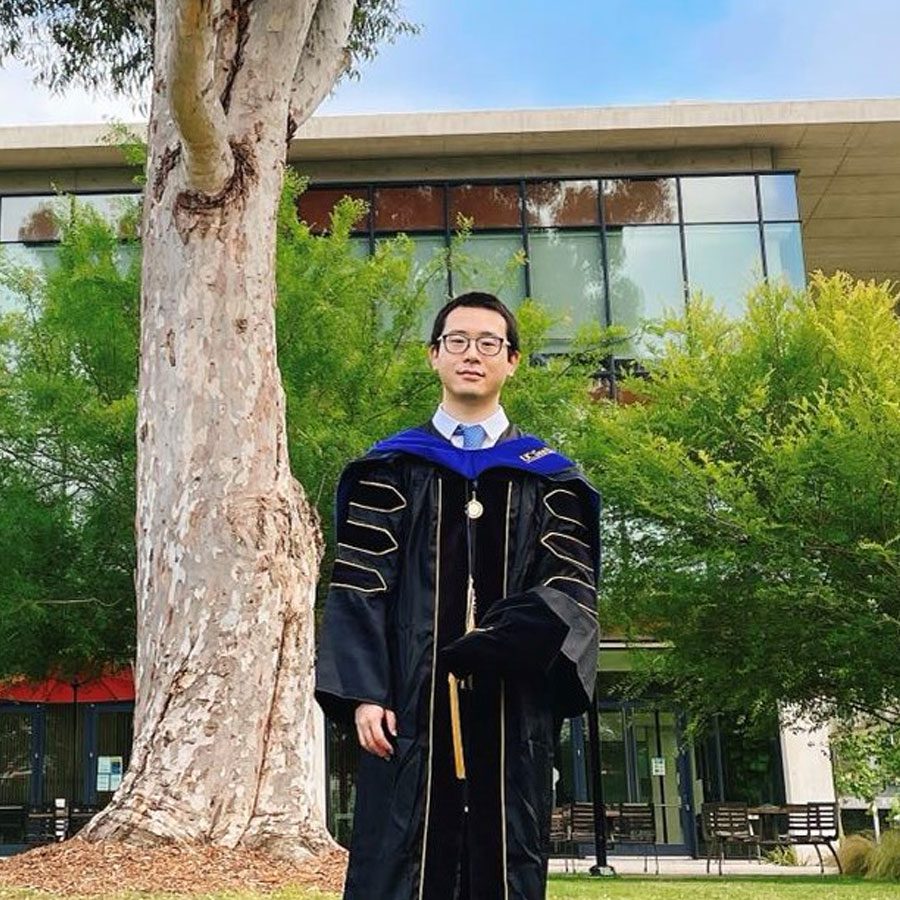 Preventive Medicine Residency
With rotations at UC San Diego Health and in other community health programs, the Herbert Wertheim School of Public Health links to medicine through the General Preventive Medicine Residency program. It is jointly sponsored by UC San Diego and San Diego State University, providing access to both academic and clinical medicine.
Residents — who are both UC San Diego resident physicians and San Diego State University graduate students throughout their residency — receive training on competencies to deal with clinical preventive medicine and population-level problems such as health care for the indigent, communicable disease control, and health care delivery.
Beginning on July 1, 2021, a five-year Health Resources and Services Administration grant provided the General Preventive Medicine Residency an opportunity to address disparities in maternal health outcomes using population and public health approaches.
"We have observed, with great concern, dramatic differences in maternal health outcomes based on race and ethnicity," said Linda Hill, M.D., M.P.H., outgoing director of the residency program. "With this grant, we hope that our residents, faculty and other learners in our program can make a difference to this important public health problem."
Residents in the General Preventive Medicine Residency participate in practicum rotations that train them in three areas: clinical preventive medicine, population-based medicine, and research.
Most of the clinical preventive medicine rotation takes place at clinical sites serving underserved populations, immigrants and refugees, including community health centers, an asylum seeker screening program, and student health centers in the community colleges and three local universities.
For the population-based medicine rotation, all residents rotate in the San Diego County Public Health Services. This experience supports core competencies in public health, with residents gaining knowledge and experience of the full range of services provided in public health settings. Other population-based rotations include activities such as surveillance, population-based interventions, outbreak investigation, contact investigation, grant proposal writing, needs assessment, program planning, community interventions and quality improvement.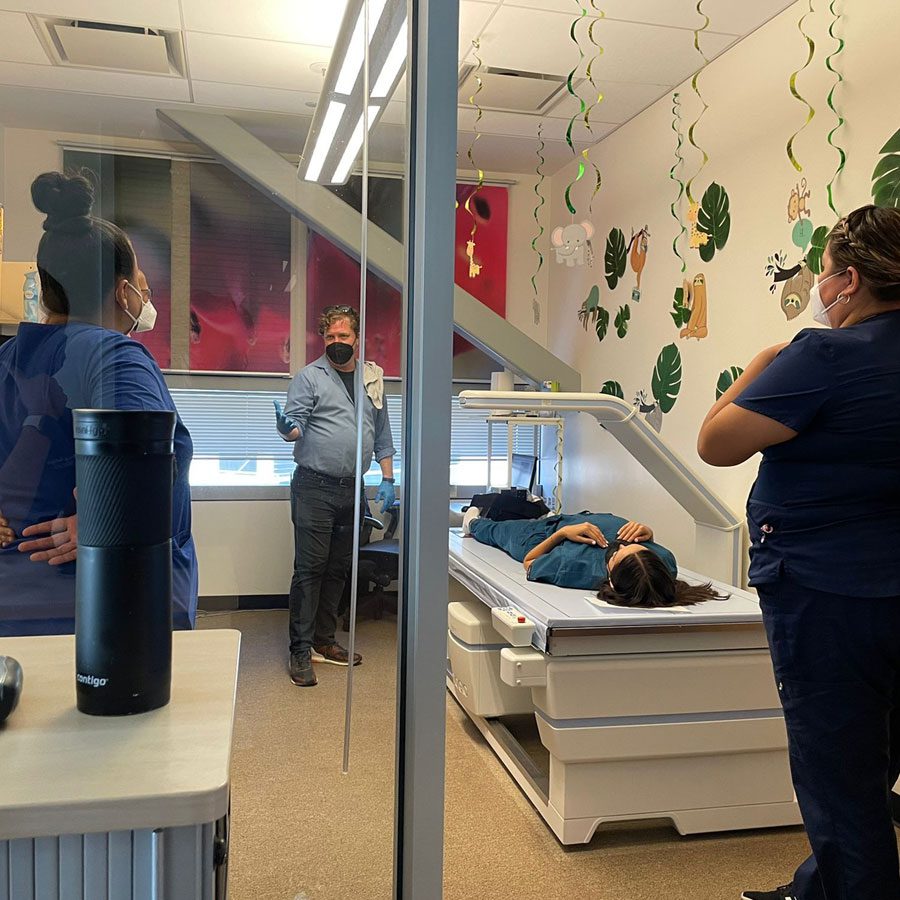 The research rotation allows residents to engage in research that culminates in writing a manuscript of publishable quality in a peer-reviewed journal. This activity assists in the development of core preventive medicine competencies such as written and oral communication skills, computer skills, epidemiological and biostatistical skills required for data analysis, and management of research resources.
"While all of our residents are trained and grounded in clinical preventive medicine, research, and population-based medicine, including public health, our program has the flexibility to provide rotations and in-depth training in a specific area of interest," said Jill Waalen, M.D., M.S., M.P.H., incoming director of the residency program.
In 2022 the Herbert Wertheim School of Public Health graduated:
Joint Doctoral Program in Public Health
Doctor of Philosophy in Biostatistics
Master of Science in Biostatistics
Master of Science in Biostatistics
Master of Advanced Studies in Leadership of Healthcare Organizations
Master of Public Health in one of six concentrations
Bachelor of Science in one of seven concentrations