JUSTICE, EQUITY, DIVERSITY AND INCLUSION
The Foundation of the School
Applying the principles of justice, equity, diversity and inclusion (JEDI) within the walls of the Herbert Wertheim School of Public Health and Human Longevity Science at UC San Diego supports our aim to create a more inclusive and healthier work and learning environments.
During the COVID-19 pandemic, the Herbert Wertheim School of Public Health dove deeper into health disparities that were intensified by COVID-19 by addressing the clinical needs of thousands of new asylum seekers at the San Diego/Tijuana, Mexico border. With community partners, researchers investigated the negative impacts of COVID-19 on established refugee communities in San Diego.
"The school of public health is at its best when our training and research efforts, as well as our community academic partnerships, are working together in a way that acknowledges the importance of diversity to true excellence and innovation," said Cheryl A.M. Anderson, PhD, professor and founding dean of the Herbert Wertheim School of Public Health.
"This school is not only built for those of us who are walking through the halls in the present moment, but we are keenly aware of our need to be relevant decades from now. That means we need to recruit a diverse and inclusive type of scientist to train here and to work here."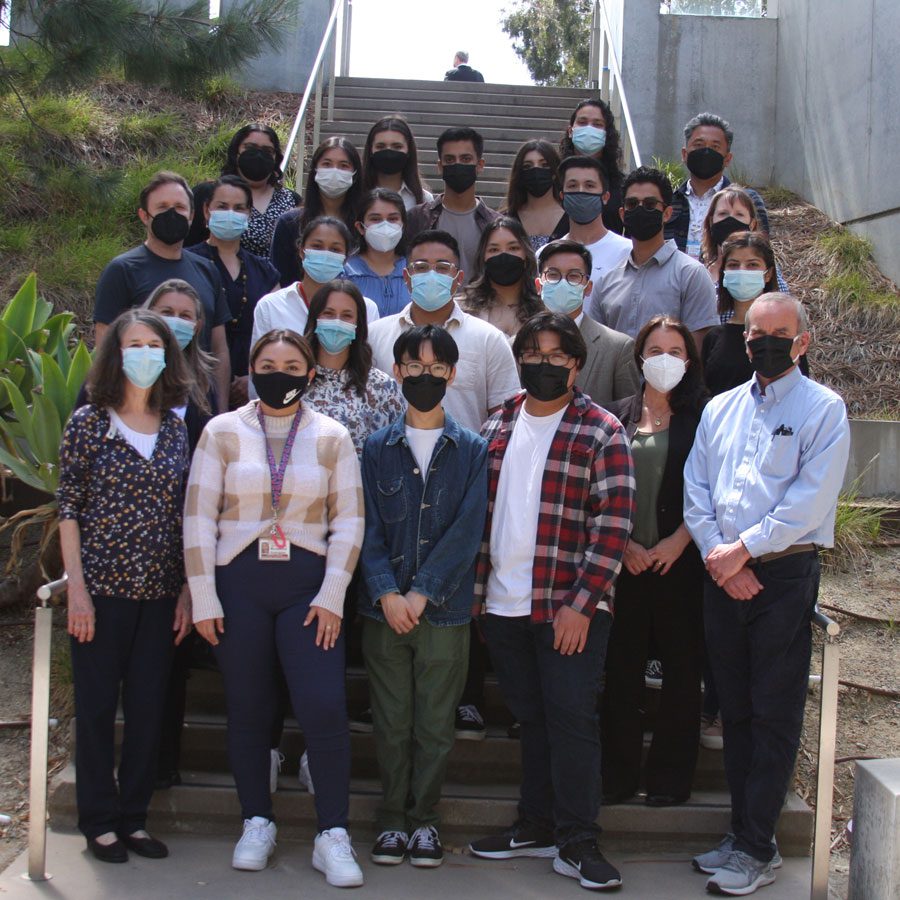 The Herbert Wertheim School of Public Health launched with a core mission of "radical hospitality and inclusivity," centering JEDI in its approach to public health research, education and service.
Among the many programs aimed at addressing JEDI is a National Institute of Aging-funded R25 undergraduate training program called Mentorship for Advancing Diversity in Undergraduate Research on Aging (MADURA). Its primary objective is to improve diversity in research and clinical careers that are focused on Alzheimer's Disease and Related Dementias (ADRD) and other aging-related topics by providing paid hands-on research experience to 27 UC San Diego undergraduate students who are from groups historically underrepresented in medical, science, technology, engineering and mathematics (MSTEM) majors.
"We want to enable students in medical and STEM majors to enter careers they aspire to and where better representation is needed. MADURA addresses the needs of the students through mentoring, research experience and financial support, but it also addresses important scientific research needs," said Sheri Thompson, PhD, MADURA program coordinator.
"By having a more diverse population of research professionals, our hope is that the quality and the nature of research on diseases such as Alzheimer's will improve and we will be more inclusive of groups who have been overlooked."
With an interdisciplinary approach to public health, MADURA has 30 faculty mentors ready to help students with a range of majors from psychology to cognitive science to computer science.
"MADURA has changed how I think about health care in the need for diversity in research," said Nicolaas Ugalde, who participated in MADURA as a senior and graduated with a Bachelor of Science in General Biology in June 2022.
"I had no idea that a lot of research mainly focuses on Caucasians. But there are some differences in health care between races. For example, dementia and aging happen at different paces," said Ugalde, who has ambitions of becoming a neurosurgeon. "I learned, being a Latino, that we age slower. I've seen it with my grandmother who recently started showing signs of dementia at 96."
After the pandemic necessitated two years of virtual-only labs, Ugalde was ecstatic to have the opportunity to work in a wet lab. During his training, he attended the lab of Matthew Shtrahman, MD, PhD, in the Department of Neurosciences, who is investigating causes of neurodegeneration.
"These are experiences I may never have had without MADURA," said Ugalde. "I could have gone my entire life just doing clinical work. When I'm in my residency, I'm going to look at patients differently, individually, and not just generalize."
In addition to hands-on experience, the program supports trainee academic success and retention and promotes application to graduate and medical programs as well as entry into clinical or research careers in aging or ADRD.
"UC San Diego is a unique place for a program like MADURA because we have one of the largest neuroscience programs in the world and we have the Herbert Wertheim School of Public Health and Human Longevity Science," said Steven Edland, PhD, MADURA principal investigator.
"Students graduating from the MADURA program have the tremendous advantage of having real-world job experience that will help them apply to graduate or medical schools and obtain research jobs out of college."
In its first academic year – 2020-2021 – the school held classes amid a pandemic, but students, faculty and staff were also impacted by an intense national conversation about anti-Black racism, and structural and systemic racism faced by others. This context shaped the curriculum and demanded dramatic changes to teaching, learning and living.
"We have learned some important lessons during the pandemic. It became critically clear, as the dean of a new school of public health, that a conversation about racism had to be foundational to what we did in this new school if we are really going to dismantle the systems and the structures that promote racism and, as a result, promote less than optimal health outcomes across all of society," said Anderson.
An early component was to invite all employees to participate in a 24-hour racial resilience seminar series that helped participants recognize systems that normalize racism, explore an individual's role in perpetuating structural racism, talk compassionately about it and make sustainable changes that build a school with a harmonious foundation.
Systemic racism seemed to be making headlines daily. In a five-month period in 2020, in five separate incidents, five Black people were killed: Ahmaud Arbery, Breonna Taylor, Daniel Prude, George Floyd and Rayshard Brooks. Sadly, more followed, including rising violence against people of Asian descent.
To create a safe space for difficult conversations, the Compassionate Action Circle was introduced.
"We are all being impacted by these events. They impact our well-being, our productivity and our sense of safety and belonging," said Martha Anderson, JD, MDiv, dean's chief of staff.
"The Compassionate Action Circle is an approach to create a place where wellness is supported. We talked about steps to take when you are in a system that, by design, is oppressive to some people. What are the measures we can take to free all people from oppression that is perpetrated in the environment?"
Held in October 2021, the forum facilitated an open conversation that was needed to build a sense of community, said Kyle Choi, informatics project manager in the Herbert Wertheim School of Public Health.
"The Compassionate Action Circle was held during a time when many of our staff were only seeing UC San Diego's reactionary like responses to JEDI-related current events," said Choi. "The forum was perceived as more of an intentional and proactive effort."
The Compassionate Action Circle adds a unique aspect to the school, which is the fostering of compassion into the academic space, said Sonia Jain, PhD, interim associate dean for Justice, Equity, Diversity, and Inclusion.
"Our students are impacted too. After the George Floyd incident, I put aside what I was planning to teach that day to have a conversation, a moment of healing," said Jain. "We need a place to talk about the underlying issues of how it affects the principles of JEDI across the school, whether you are a student, faculty or staff."
"The hope is that the Compassionate Action Circle and similar programs become part of the community so that when incidents happen, which unfortunately continue to occur, our school has a safe place to communicate."